Ruins. New Book by Jordan Sullivan
RUINS is a publication made in conjunction with Jordan Sullivan's installation, "The California Sun Was All I Had For Breakfast, And It Burned My Eyes", exhibited in Shanghai, China in September 2017.
The installation and resulting book are composed of redemptive pieces; things made from failures through a process open to destruction and mistakes. The prints are initially made on an engineering printer, the lo-fi nature of the prints is a decisive gesture against the image as a precious object. Each print is then saturated with chemicals, left in the rain, and manipulated by hand.
This cumulative process results in the colors of the images seeping into the backs of the prints. The images are then flipped over, cut-up, and reassembled. From these photographs of physical landscapes, psychological spaces begin to emerge. Abstract fragments and scraps of opaque evidence recall open-ended moments from Jordan's lived experience. All that is seen of the original photographic base is the hazy nebula of colors that have bled onto the backs of each print.
For the publication a selection of these prints were cut, folded, and bound. The cover of each book was made by dragging sheets of book cloth through the residual ink that was pulled from each of the destroyed photographs.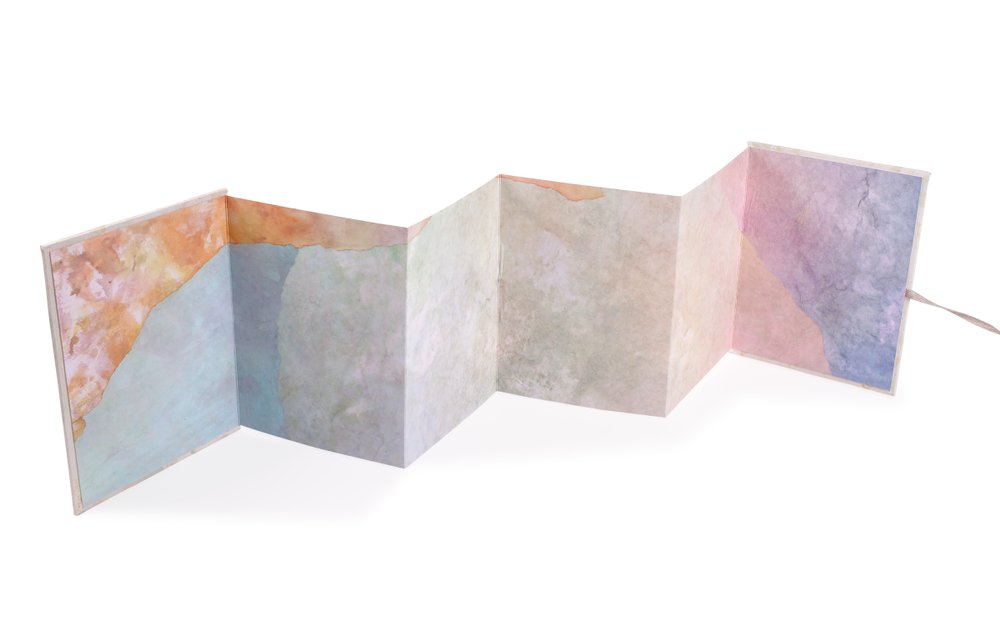 RUINS by Jordan Sullivan
5 1/2" x 7 1/4"
10 Panels
Leporello fold with Cotten Fabric Covers & Linen Tie
Hand Tipped-in Text Pages
Unique Collage (Inkjet prints on archival bond paper mounted to Arches paper)
Handmade Edition of 15 (Each book is cut from a unique collage and has its own cover)